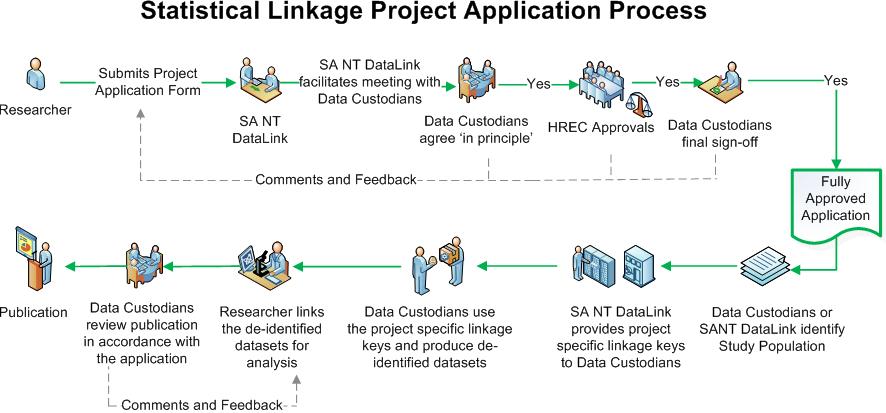 High Level Application Process
1. Researchers intending to undertake a linkage project must complete a Statistical Linkage Application Form (the online PHRN application form can be accessed through this link) to initiate the approval process for SA or NT data, or other Australian juristictional data.

2. Applications for approval to undertake a linkage project for ethically approved research, should first use the form in Step 1. For clarification please contract SA NT DataLink c/- santdatalink@unisa.edu.au
3. A member of SA NT DataLink Research Advisory and Metadata (Client Services) Team reviews the application form, provides feedback and facilitates any meeting with Researchers, Data Custodians and Data Providers.
A quotation can be prepared as well as a Letter of Feasibility to accompany any ethics application.
4. Data Custodians provide their conditions and possibly their 'In Principle' approval for researchers to access the research data.
5. Once 'In Principle' approval is received from participating Data Custodians, Researchers may then proceed to apply for ethical approval/s.
6. The completed PHRN Online Application form (From Step 1:) with complete supporting documents (ie. Copy of Ethical Application & Approvals, full list of requested analytical variables and justification, Signed Deeds of Confidentiality and Compliance for people accessing the data itself) are submitted to each participating Data Custodian for their final approval.
7. Once final approval from ALL data custodians are obtained, SA NT DataLink will performance a final governance review and then proceed with creating the set of project specific linkage keys for the cohort of interest, using the data records within the SA NT Master Linkage File.
8. Data Custodians will receive from SA NT DataLink the project specific linkage keys (PSLKs) which links the research population cohort associated with the approved project to the data held by the Data Custodian.
9. Custodians will use these PSLKs keys to extract the approved researchable data variables, removing all identifiers (e.g.names).
10. The resultant file(s) will then be provided to the researcher for analysis.
Important Note: A dataset that is not already part of the Master Linkage File will add significant delay due to the 'acquisition process' of datasets.
Per the diagram above, a condition of accessing data through DataLink is that 30 days prior to release of research findings and publications, a copy must be provided to each participating Data Custodian, not for embargo but to enable feedback and assurance of privacy by Custodians.
For access to Australian Government data including MBS, PBS, Centrelink, Aged Care, Disability (NDIS), National Death Index, National Immunisation Registry please follow Step 1. above noting that as a condition for accessing this data at a unit record level, the data is securely stored and accessed remotely in a secure data laboratory. Please liaise with SA NT DataLink for more information.