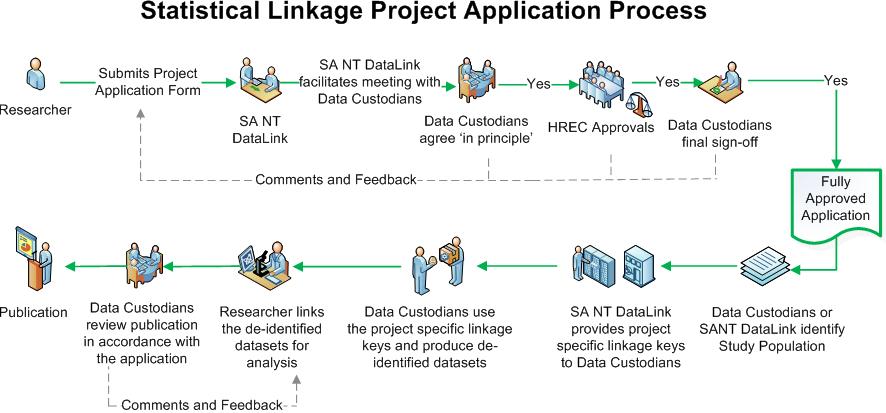 High Level Application Process
STEP 1: Researchers intending to undertake a linkage project must complete a Statistical Linkage Application Form (the online PHRN form through this link) to initiate the approval process:

STEP 2: Applications for approval to undertake a linkage project using Project Specific Linkage Keys must be submitted to SA NT DataLink.
STEP 3: A member of SA NT DataLink Client Services reviews the application form, provides feedback and facilitates meeting with Researchers, Data Custodians and Data Providers. A quotation can be prepared as well as a Letter of Feasibility.
STEP 4: Data Custodians provide their conditions and possibly their 'In Principle' approval for researchers to access the research data.
STEP 5: If 'In Principle' approval is received: Researchers may then proceed to apply for ethics approval/s.
STEP 6: The completed SA NT Datalink application form with complete supporting documents (ie. Ethics Approvals) is submitted to Data Custodians for final approval.
STEP 7: Once final approval from ALL data custodians are obtained, SA NT DataLink will create and extract project specific linkage keys using data records from the Master Linkage File.
STEP 8: Data Custodians will receive from SA NT DataLink project specific linkage keys which links the research population cohort associated with the approved project to their dataset.
STEP 9: Custodians will use these keys to extract the approved research variables, removing all identifiers (e.g.names).
STEP 10: The resultant file(s) will then be provided to the researcher for analysis.
Important Note: A dataset that is not already part of the Master Linkage File will add significant delay due to the 'acquisition process' of datasets.